Morning at Bloomingdale's: Miss Dior and Coco Chanel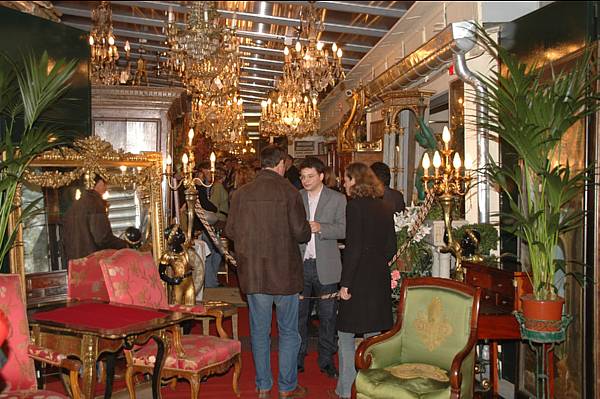 Searching for beauty at Bloomingdale's, I ran into Miss Dior and Coco Chanel. On a day that started out damp and drizzly, with nothing pressing on the agenda, I thought it'd be fun to stop by Bloomie's to see what the designers were showing for fall. But before I could do that, I had to stop at Pink Nail on Lexington for a manicure, knowing full well that no self-respecting sales person would pay any attention to me if I showed up with chipped nails. Flipping through a few fashion magazines while waiting for a manicurist, I learned that the must-have color for fall is burgundy.
Good to know. And I'm in luck, not with my nails but with a handbag bought a year or so ago at the Marché aux Puces in Saint-Ouen. It was love at first sight, a vintage Gucci handbag from the 1930s, a burgundy alligator bag with a shoulder strap. Of particular interest was the clasp with two facing letter G's which, according to Madame was the Gucci logo before they began using the intertwined G's.
In mint condition, the handbag was lined in a burgundy suede and had a matching burgundy suede change purse, a mirror neatly wrapped in a single sheet of vintage tissue paper, and an inner flap stamped in gold lettering: Made in Italy, by Gucci. My husband twisted my arm until I cried "uncle!" and gave in, but after bargaining none-too-successfully he paid the asking price. Madame was adamant. "Monsieur," she insisted, "This is a rare bargain!" I couldn't have agreed more.
The ground floor at Bloomingdale's—a mix of chic boutiques and counters spilling over with fragrances and skin care products—was almost as entertaining as Les Puces. Almost. At Chanel, I sniffed my way from one fragrance to another, spritzing a half-dozen of those little white cards, before narrowing my choices to: Platinum Egoiste, Chanel Noir and Chanel No. 5.
At which a beauty consultant came over saying that Chanel No. 5 was the best-selling fragrance in the world. When she learned I have Chanel No. 5, without missing a beat she says: "If that's the case, you might want to layer it with 'Beige.' That's what I've been doing lately." What a clever girl! But what kind of a name is 'Beige' for a perfume?
Speaking of clever girls, I found myself thinking about another clever girl, Coco Chanel, and wondering what she'd say about layering perfumes. What she did say was: A girl should be two things -- fabulous and classy.
Telling the saleslady I'm going to give some thought to 'layering," I wandered the aisles until I came to a blown-up photograph of the lightly-layered 'Miss Dior,' as demure and provocative as a young Bridget Bardot.
"May I be of assistance?" At my elbow stood a young woman with the most perfect makeup, a pair of really red lips and a dazzling smile. "Would you have a few minutes to spare? Today we have our team of makeup artists here today including Ricky Wilson, Dior's famous international makeup artist. He's done the makeup of a number of movie stars including Natalie Portman and Charlize Theron. If you'll follow me, we have a screened-off area to give our clients more privacy."
As if she's the Pied Piper, I follow after. Her name is Gabriela Henson, a beauty artist for Dior, and, before I know it, she has me perched on a director's chair with barely enough time to cross my legs before Carlos, who travels for Dior and assists Ricky sets to work.
He gives it his all, applying, without exaggeration some 20 products, starting with makeup remover and ending with a really red lipstick—at Ricky's suggestion! Ricky loves red, feels every woman can wear it, that it brings out the inner diva. I haven't worn red lipstick since I flew with TWA when the only permissible color was red, to match the logo. The only permissible shade was Revlon's 'Fire and Ice'.
Isn't he meticulous? What I learn from Carlos is that I should never use black eyeliner (huge mistake) with my blue-green eyes. No, the best color for me is Marine Blue. But not before covering the lower lids with a creamy light-as-silk concealer. As for the lips, best to start with a color reviver balm—lip glow—which adds a hint of pink, perfect for running early morning errands, he suggests. But it's going to take more than lip glow for me to look like 'Dior Star.'
And in the bag of goodies that I come away with? Yes, of course, the Marine Blue eyeliner, the Lip Glow, the concealer, and a sample of their newest fragrance 'Miss Dior.'
So, what do you think? Make-up by Dior. Teeth by Brite Smile. Eyebrows by Donna Messenger. Hair by Damp Drizzly Day.
After which I layer the Chanel No. 5. with Miss Dior. Let me ask you, if that's not fabulous and classy, what is?
This evening, rummaging for my keys in my handbag, I came across the cards spritzed with perfume. Here's a tip: The one that had held its fragrance best? Chanel No. 5. No wonder it's the world's best-selling perfume.
Ladies, what's your favorite scent? Do you change it with the seasons? And, gentlemen, what's your favorite cologne or after-shave? What? Are you still wearing Old Spice?
Next Sunday I'm taking you to MoMA. Until then, Bonitababs thinks it would be both classy and fabulous if you shared this post with friends and family. Merci beaucoup, mes amis.